September 28, 2022
Chef Briana Kim once again wins Ottawa's Great Kitchen Party, will head to national championship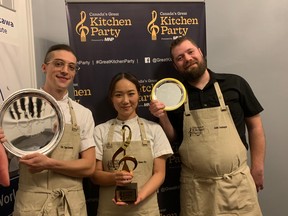 Chef Briana Kim will once again represent the National Capital Region at the Canadian Culinary Championship to be held in Ottawa in early February.
Kim, the chef-owner of Alice on Adeline Street in Little Italy, prevailed over four other chefs on Monday night at Le Cordon Bleu Ottawa Culinary Arts Institute when she won the Ottawa edition of Canada's Great Kitchen Party. With her win, Kim, a self-taught chef who nevertheless has connections to several of the world's top-ranked restaurants, qualifies for the national competition.
Ottawa Citizen Headline News
Sign up to receive daily headline news from Ottawa Citizen, a division of Postmedia Network Inc.
By clicking on the sign up button you consent to receive the above newsletter from Postmedia Network Inc. You may unsubscribe any time by clicking on the unsubscribe link at the bottom of our emails. Postmedia Network Inc. | 365 Bloor Street East, Toronto, Ontario, M4W 3L4 | 416-383-2300
In the fall of 2017, Kim, then the chef-owner of Café My House in Hintonburg, won Ottawa's Gold Medal Plates competition, the precursor to the Kitchen Party event. She cooked at the national championship subsequently held in Kelowna, B.C.
Renowned for her deeply creative and highly technical plant-based dishes at Alice, Kim served judges and almost 170 event-goers a dish of onion tuile, smoked potatoes, rhubarb jerky, maitake mushrooms, pickled onion, dill sour cream, lacto-fermented green tomato and koji broth.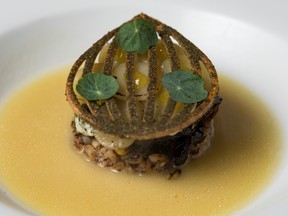 The judges unanimously ranked Kim's dish as the best of the pack. It also won the evening's people's choice award based on an online vote.
Recommended from Editorial
"It feels great," said Kim in a statement after she had won. "We were really excited to present our dish tonight. We were hoping that the guests would appreciate it as much as the judges, and we couldn't be more happy."
National head judge James Chatto said all five competitors went on a limb with "exciting and thoughtful dishes.
"The dishes were and looked delicious," he said. "But in the end, Briana's dish shone brighter than anyone else and it was a unanimous decision. It is exciting that it was plant-based cuisine as well."
Article content
Taking home silver was Éric Chagnon-Zimmerly, chef de cuisine of North & Navy in Centretown. In keeping with his restaurant's upscale Italian inspirations, Chagnon-Zimmerly made an elaborate and beautiful charcuterie of duck mortadella and rare duck, which was thinly sliced and then colourfully garnished before serving.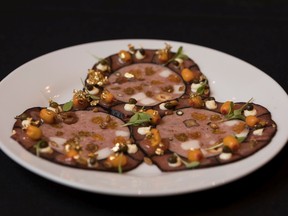 Winning bronze was Justin Champagne, chef-owner of Perch on Preston Street, a small and sophisticated tasting menu-based restaurant that opened in the fall of 2021, following in the footsteps of Atelier and Alice in Little Italy. Champagne, who like Kim is an avid enthusiast of culinary trends such as fermentation, made lightly cured and then koji dashi-poached lake trout with a sunflower tuile, sake-aged mushrooms, dulse and tomato gel, blood pudding, fermented koji sauce and cucumber.
Article content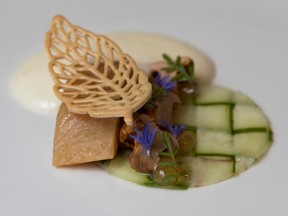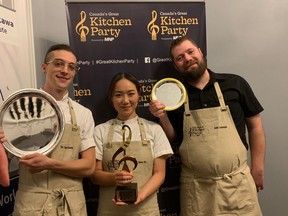 Also competing were Dominique Dufour of Gray Jay Hospitality on Echo Drive and Wapokunie Riel-Lachapelle of Nikosi Bistro-Pub in Wakefield. All of the chefs except Kim were competing in the Ottawa Kitchen Party for the first time.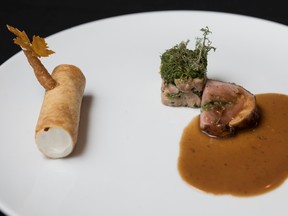 The Ottawa event was the first to be held among nine competing cities from St. John's, N.L. to Vancouver, B.C. The respective winners will square off in Ottawa Feb 3 and 4 next year.
Among the seven judges who assessed entries in Ottawa last night were Ian Carswell, chef-owner of Black Tartan Kitchen in Carleton Place, who won Ottawa's Kitchen Party in 2019, and Marc Lepine, chef-owner of Atelier, the only two-time winner of the Canadian Culinary Championship.
Due to the pandemic, the Kitchen Parties and culinary championships did not take place in 2020 and 2021.
Monday's event was also a fundraiser for Spirit North and MusiCounts, two national organizations that support Canadian youth, and the Ottawa Boys and Girls Club.