July 13, 2022
Holt tosses hat into Windsor mayoral ring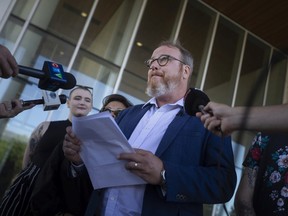 Ward 4 Coun. Chris Holt wants to be Windsor's next mayor.
Dissatisfied with the city's current leadership, the two-term councillor on Tuesday filed his paperwork at city hall for the Oct. 24 municipal election.
"This is a watershed moment for our community," Holt, 54, said. "The decisions we make now will define the community we become over the next 20 to 30 years, with unprecedented investments coming.
"It's time to elect a leader with a complete grasp of how to build a resilient and sustainable city. It's time to elect a leader that listens to you in building the city you can be proud of."
Mayor Drew Dilkens has not yet stated his intentions for the fall election but was quick to chime in on Holt's announcement with a statement on his Facebook page. Dilkens said he "understands" the perspective Holt brings but doesn't find himself "agreeing with him very often."
The city is "on the right track by delivering results on local economic development, job creation and showing great progress in our long-overdue new regional hospital," Dilkens said. "Mr. Holt's radical voting record would be too risky and could derail our accomplishments."
Holt, a lifelong Windsorite, has lived in Walkerville since 2002 with wife Nancy and children Olivia and Logan. He was narrowly elected to city council in 2014 with roughly 28 per cent of the vote but rose in popularity during his first term, garnering nearly 80 per cent of votes in 2018 to retain his seat.
"It is very clear to me that people in Windsor, regardless of what neighbourhood they call home, embrace and support the ideals that I have been championing around the council table," Holt said.
Those ideals include clean and safe neighbourhoods; affordable housing; quick and easy access to amenities; safe, efficient, and affordable public and active transportation options; high-quality city services; and investment in arts and culture — all things the city can accomplish "while still being fiscally responsible," Holt said.

Holt has been an employee of Ford Motor Company for 28 years and co-owns Chapter II Brewing Company in Ford City. With a self-professed passion for active transportation, civics, and urban design, he also founded City Cyclery, a bicycle shop that also offers full-service maintenance.
During his time on council, Holt has been a member of the Development Charges Task Force, Windsor Business Improvement Area Advisory Committee, and all four BIAs in the Walkerville and Ford City areas. In the last four years, he's served as chair of the Environment, Transportation and Public Safety Standing Committee and is a member of the Development and Heritage Standing Committee.
Although council has accomplished "a lot of great things" during Holt's tenure, "so much has been left on the table," he said. "We always come up short from achieving the maximum potential of any of our plans."
He said he began to question his role on council about two years ago, "wondering if we had what it took to accomplish the things that I needed to accomplish.
"It really dawned on me that if I don't take this next step, nobody else is going to. Nobody else has had the insight that I've had over the past eight years, seeing the incredible potential."
In the coming weeks, Holt said he will share his ideas and plans for the city with a fully-costed platform.
"We have the hearts and the minds to actually build the city we all want and deserve together. This campaign is about that."
With Aug. 19 as the final day to file for candidacy to run in the Oct. 24 civic elections, Holt joins recurring candidate Ernie Lamont and area welder Benjamin Danyluk in the Windsor mayoral race so far.
Holt's mayoral candidacy means Ward 4 will be left open to a council newcomer this fall, as will Ward 3, where incumbent Coun. Rino Bortolin announced last week that he will not seek re-election.
As of Tuesday, Ward 4 has three candidates: Kristen Siapas, Patrick Sutherland, and Edy Haddad. Ward 3 has none.
In his social media statement, Dilkens said he welcomes and encourages "all candidates" as the election gets underway. While there "will be plenty of time for a robust campaign later this year," the mayor said for now he's "focused on delivering results for residents and completing this term."
Sign up to receive daily headline news from the Windsor Star, a division of Postmedia Network Inc.
By clicking on the sign up button you consent to receive the above newsletter from Postmedia Network Inc. You may unsubscribe any time by clicking on the unsubscribe link at the bottom of our emails. Postmedia Network Inc. | 365 Bloor Street East, Toronto, Ontario, M4W 3L4 | 416-383-2300