October 28, 2022
Marjorie Taylor Greene Blasts GOP Migrant Transports: 'I So Disagree'
Representative Marjorie Taylor Greene has emerged as an unexpected critic of two red-state governors transporting migrants to Democratic-led jurisdictions, saying the ploy inadvertently sent illegal immigrants "all over the country."
The far-right Georgia Republican's remarks to a local GOP group were published Thursday by The Atlanta Journal-Constitution. GOP Governors Greg Abbott of Texas and Ron DeSantis of Florida have been applauded by their conservative bases for relocating migrants to liberal enclaves, while critics denounced their efforts as cruel stunts carried out for political gain. Greene said she opposed the transportation of migrants across the country for other reasons, but said that the situation was still "funny."
"Now, I know it makes great headlines on Fox News, and we laugh about it and it's funny when we see busloads get dropped off, like in Martha's Vineyard, we're, like, 'Ha ha ha.' You know?" Greene said at the Whitfield County Republican Party headquarters in rural northwest Georgia. "Or we see them dropped off in front of Kamala Harris' house, and we're like, 'Oh, the border czar, should she care now.'"
Greene was referring to how DeSantis in mid-September ordered two planes of migrants sent to Martha's Vineyard, an upscale vacation destination off the Massachusetts coast. Abbott also drew headlines the same week for sending two buses of migrants to the official residence of Vice President Kamala Harris, who been tasked by the White House with addressing immigration issues.
The Texas governor in the spring began busing migrants to New York City and Washington, D.C. Both governors have justified the relocations, saying they were helping migrants reach liberal jurisdictions that had declared themselves "sanctuaries."
"Let me tell you though, I so disagree with that," Greene told the crowd. "Here's why: That is the same thing as putting them on airplanes and shipping them all over the country. And it's Republicans doing it. I know Governor Abbott is trying to do something about it; I know Governor DeSantis wants to do something about it. But I disagree with sending them all over the country."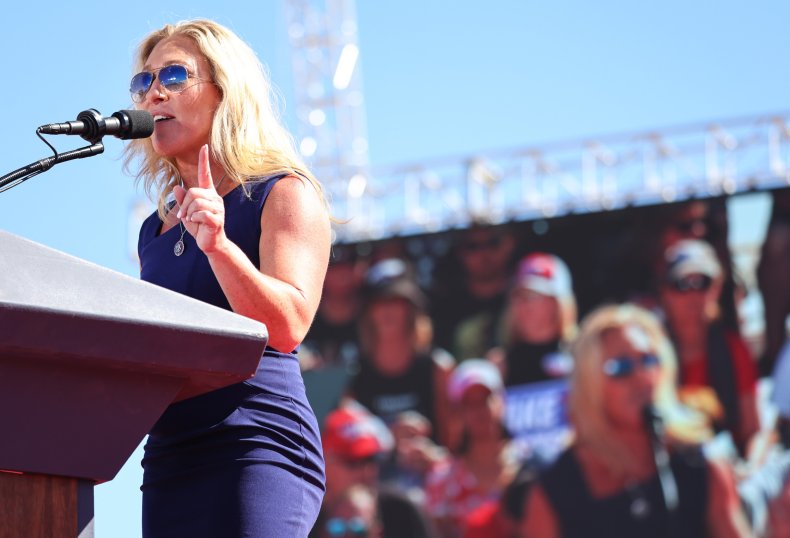 Greene said bused migrants had disembarked to nearby Chattanooga, Tennessee, as well as in Dade County, a rural northeast Georgia county where she said they planned to live. She said the migrants' arrival created problems for the sheriff of Dade County.
The Dade County Sheriff's Office said in a Facebook post in August that Sheriff Ray Cross responded to a call that buses traveling from Texas to Washington, D.C., were dropping off illegal immigrants in the county. Cross found a translator and convinced the bus staff and the migrants to continue driving, according to the post.
Cross also contacted the bus company and asked that drivers not drop off migrants in rural areas where there are fewer resources, according the post. The sheriff also flagged the incident to state legislators and the governor's office.
Chattanooga over the summer also had Texas buses transporting migrants stop in the city, with some migrants reportedly staying in the area, according to Fox affiliate WTVC.
"We are aware that Chattanooga is apparently a stopping point for charter buses sent by the State of Texas to the East Coast carrying migrants following the legal process of asylum," Joda Thongnopnua, Chattanooga's chief of staff, said on Twitter in August.
But he added that, "It's important to understand that these are migrants who have been screened by the Department of Homeland Security and are legally seeking asylum—which is a protected legal status."
Newsweek reached out to the offices of Abbott and DeSantis for comment.