September 10, 2022
Spitfires see much-needed growth in exhibition win over Firebirds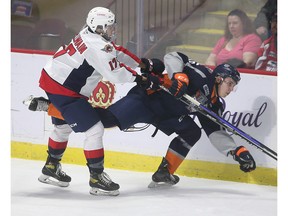 Exhibition season is all about growth.
With half the 20-man lineup filled with first-year players, the Windsor Spitfires took a step forward on Friday.
Windsor Star Headline News
Sign up to receive daily headline news from the Windsor Star, a division of Postmedia Network Inc.
By clicking on the sign up button you consent to receive the above newsletter from Postmedia Network Inc. You may unsubscribe any time by clicking on the unsubscribe link at the bottom of our emails. Postmedia Network Inc. | 365 Bloor Street East, Toronto, Ontario, M4W 3L4 | 416-383-2300
Veteran players showed offence and leadership and younger players showed they can chip in as well in a 5-2 exhibition win over the Flint Firebirds at the WFCU Centre.
"I thought it was a great all-around effort," said Spitfires' head coach Marc Savard, whose team opened exhibition play with a 6-4 road loss to Niagara. "There's young kids out there. I thought the growing from last game even, I thought they played great last game the kids, and you could see it again.
"We're seeing what we need to see here early. We've got a lot of work to do, but it's fun to see these guys succeed early."
Veteran Matthew Maggio paced the offence with a goal and two assists and veterans Jacob Maillet and Alex Christopulos each picked up a goal and assist while overage goalie candidate Xavier Medina was solid with a 29-save effort.
But first-year forward Noah Morneau chipped in with his first goal in exhibition play and second-year forward Ethan Miedema, who was the fourth overall pick in the 2021 OHL Draft, made it back-to-back games with a goal.
"Hopefully, try and keep this pace up, but we'll see what happens," the 17-year-old Miedema said.  
Miedema spent much of his rookie season on the fourth line, but got top-line minutes with Maggio and Maillet on Friday.
"We called them the 3M line," Savard said. "We're going to need Miedema to be a big-time producer on our team this year, there's no question."
But growth doesn't just come from points on the scoresheet. Oliver Peer made the club last season as free-agent camp invite.
Now, aside from trying to improve his game, he's trying to be more of a leader in his second year as players try to follow his footsteps.
"Everybody in this league knows what it's like to be here your first year," said the 19-year-old Peer, who was one of 11 members of the Spitfires to hit the scoresheet on Friday. "There's a lot of unknown. I just try to make the new guys feel comfortable, welcomed and be their own player."
In the first meeting between the club since Windsor took out Flint in seven games in the Western Conference final, a little of that old rivalry flared up at times on Friday.
"They didn't forget about last year and neither did we," Peer said. "It definitely carried on."
But Windsor's young lineup held tough to earn the win and that included the defensive pairing of Rylan Masterson and Alessandro Petreccia, who have been added to the roster as undrafted free-agent invites.
"We're looking for another defenceman," Savard said. "I thought they were both fine. Made some good plays and help out."
The two teams meet again on Sunday in Flint. Game time is 4 p.m.
twitter.com/winstarparker
Check out our sports section for the latest news and analysis. Care for a wager? Head to our sports betting section for news and odds.